Best GRE Tutoring in Cambridge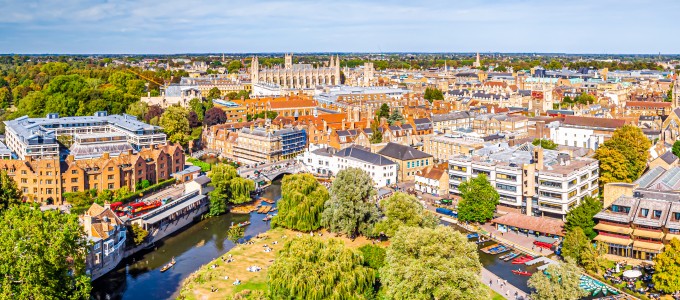 Most graduate programs require applicants to complete the Graduate Record Examination (GRE), which is usually a major factor in admissions decisions. Manhattan Review in Cambridge offers a variety of effective GRE learning options that show students how to succeed on the GRE. Our Cambridge GRE programs include on-site GRE prep classes, online GRE prep courses, and GRE private tutoring, and we also provide GRE practice tests. Contact Manhattan Review in Cambridge today, and we'll help you decide which of these options is right for you. All of our GRE courses and private tutoring plans include the most qualified local instructors, the highest quality course materials, and the industry's most innovative instructional methodologies. Manhattan Review has been helping students in Europe, North America, Asia, and Africa succeed on major standardized tests since 1999, and we have seen thousands of our clients get accepted to the graduate programs of their choice. Cambridge students cannot find a better resource for all of their GRE prep needs.
Manhattan Review's one-on-one GRE tutoring features targeted instruction for maximum results. Our tutors create customized learning plans based on specific GRE strengths and weaknesses, academic background, desired scores, and preferred learning style. There is no universal GRE standard, and each university, school, and department has its own GRE requirements and/or expectations. Some programs have explicit GRE minimums, such as the School of Electrical and Computer Engineering at Georgia Tech, which will not consider applicants with GRE scores lower than 146 verbal, 155 quantitative, and 3.5 analytical writing. Other programs do not have mandatory minimums, but the average scores of accepted students suggest departmental expectations. The Department of Chemistry and Chemical Engineering at Harvard University reports average GRE scores of 163 verbal, 166 quantitative, and 4.5 analytical writing. Manhattan Review's customized private GRE tutoring can be tailored to any individual set of GRE goals, saving our students both time and money.
Cambridge students interested in getting accepted to elite graduate programs can be confident in Manhattan Review's track record. Our clients have been admitted to many of the best postsecondary institutions in the world, including Princeton, Stanford, Harvard, Yale, Columbia, Dartmouth, MIT, CalTech, Oxford, Cambridge, the London School of Economics, and the University of Edinburgh. Manhattan Review students become successful professionals after finishing their graduate degrees. Our clients have been hired by Fortune 500 companies (including Exxon Mobil, JP Morgan Chase, 21st Century Fox, and Berkshire Hathaway) and firms in Cambridge (such as Acorn Computers, Cambridge University Press, ARM Holdings, and Castle Technology). Graduate education has been proven to boost earnings. According to the U.S. Bureau of Labor Statistics, individuals who hold a master's degree earn almost 56% more than the median salary for all workers (for a doctoral degree, salaries are almost double the median). Manhattan Review's GRE prep services in Cambridge will help you achieve a secure and prosperous future.
GRE Private Tutoring
Hours package 12 to 48 hours, Personalized 1-on-1 Tutoring, In Person or Live Online
GRE Private Course
12 hours in total, Personalized 1-on-1 Course, In Person or Live Online

My first class in Manhattan Review was a very good class. George is a very good teacher.
- Hugo (This student took our GRE course.)
Cambridge
Primary Course Venue:

Doubletree by Hilton Cambridge
Granta Place Mill Lane
Cambridge CB2 1RT, England

NOTE: We do NOT typically have staff at the venue, so email us before visiting the venue.
Meet a Cambridge GRE Tutor: Jakub R.
Jakub R., a native of the Czech Republic, holds a bachelor's degree in computer science from Carnegie Mellon University and a master's degree in computer engineering from Villanova University. A computer engineer at a firm based in Cambridge Science Park, he has been a part-time GRE tutor for the past six years. His GRE scores were in the 99th percentile on all three sections of the test, and his GRE teaching shows a similar degree of interdisciplinary aptitude.
Jakub enjoys teaching for its benefits to his intellectual development and for its necessary people skills. "GRE tutoring keeps my mind sharp, and the questions that students ask keep me thinking on my feet," he says. "But teaching is also about reading people, and interacting with them in ways that promote success." Jakub's GRE students have been accepted to top graduate programs in the United States, United Kingdom, Canada, and Australia.