Best GRE Tutoring in Oxford (England)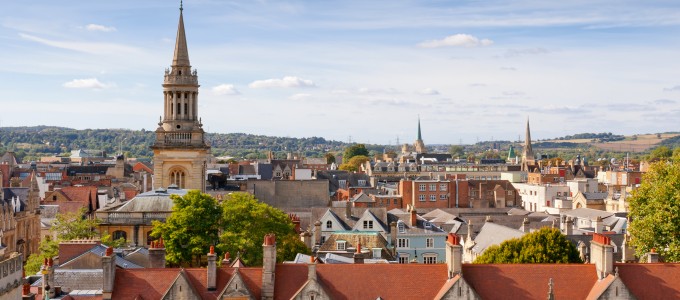 Manhattan Review is Oxford's leading provider of preparation services for the Graduate Record Examination (GRE). Graduate school applicants can choose either our on-site GRE prep courses, online GRE prep classes, or GRE private tutoring, and we also offer GRE practice tests and application advising services. With a history of success that goes back to our company's founding in 1999, Manhattan Review is one of the world's most experienced international test prep firms, and we have helped thousands of students get accepted to the graduate and undergraduate programs of their choosing. Manhattan Review's highly qualified GRE educators will teach you how to master the content of each GRE section, how to make the most efficient use of your study time, and how to approach the test in strategic fashion for your best possible scores. Contact us right away for more information on our convenient course scheduling or for answers to your questions.
The GRE is accepted as an admission test for a wide variety of academic disciplines, but the test is not considered consistently across all departments. Most business schools will now accept the GRE in lieu of the GMAT, but unlike the GMAT, business schools often do not report average GRE scores. The Yale School of Management is one exception, with average scores of 162 quantitative and 160 verbal for its accepted students. The average scores of various programs tend to reflect the emphasis in a given academic subject. Graduate education programs at UC Berkeley showed much higher mean scores in verbal (159) than in quantitative (154), while for engineering programs at the University of Southern California, the reverse was true (159 quantitative versus 155 verbal). Test-takers should ultimately strive for scores that are as high as possible on all sections of the GRE, because these can help an applicant stand out.
Manhattan Review's GRE prep courses and private tutoring have regularly produced GRE scores and acceptance to top schools such as Princeton, Harvard, Yale, Columbia, Dartmouth, the University of Pennsylvania, Stanford, the University of Chicago, UC Berkeley, the University of Michigan, Oxford, Cambridge, and the University of London. Career success after graduation is also typical of Manhattan Review students, who have been hired by Fortune 500 companies such as Apple, UnitedHealth Group, General Motors, and AT&T, in addition to local businesses such as Oxford University Press, Exient Entertainment, Shotover Brewing Company, and Circassia Pharmaceuticals. Graduate education will most certainly pay off in the near future and further down the road. Manhattan Review's GRE prep services in Oxford will help you get accepted to a top program and get started on a successful career. Become a part of Manhattan Review's distinguished history of accomplishment today.
GRE Private Tutoring
Hours package 12 to 48 hours, Personalized 1-on-1 Tutoring, In Person or Live Online
GRE Private Course
12 hours in total, Personalized 1-on-1 Course, In Person or Live Online

Bill was wonderful! He was most helpful very thorough and patient. He explained everything multiple ways and answered all our questions. I appreciated the solutions work he did.
- Linnet (This student did GRE tutoring)
Oxford
Primary Course Venue:

Royal Oxford Hotel
Park End Street
Oxford OX1 1HR, England

NOTE: We do NOT typically have staff at the venue, so email us before visiting the venue.
Meet an Oxford GRE Tutor: Carina S.
Carina S. is originally from a small town in rural Nebraska. "I'd tell you the name of it," she says, "but I guarantee you've never heard of it." A strong high school academic record led to a full scholarship to the University of Nebraska, where she completed a bachelor's degree in education. She then began her career as a special education teacher, focusing on students with severe learning disabilities. Five years later, Carina started graduate school (also at the University of Nebraska), earning a master of arts in teaching.
Carina has been a GRE tutor since 2012, and has lived in Oxford since 2015. Her background in special education has given her a unique perspective on prep tutoring. "The techniques I learned teaching disabled students made me a more empathetic and effective teacher of students without disabilities," she says. "I've included instructional methodologies that are not typically used in prep tutoring because I've seen that they work." When she's not teaching, Carina enjoys spending time with her husband and two children.