Best GRE Test Prep Courses in Cambridge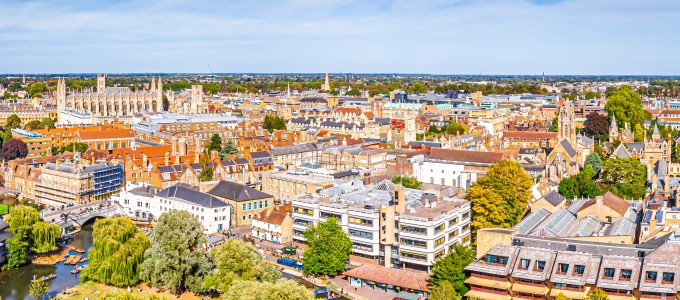 Cambridge students taking the Graduate Record Examination (GRE) can receive scores that exceed their expectations with Manhattan Review's GRE prep services. Our company has been a worldwide resource for GRE prep since we were founded in 1999, and we have helped students in Europe, North America, Asia, and Africa accomplish their academic goals. Manhattan Review has a long history of innovation in test prep teaching and learning, and our GRE learning programs emphasize strong reasoning skills rather than the tedious memorization and test-taking tricks offered by others. Our tutor and instructor hiring process is extremely selective, and only the most qualified people make the cut. Before they begin working for us, our GRE teachers are rigorously trained in Manhattan Review's unique methods of instruction and proprietary course materials. Cambridge students can choose either GRE group courses (available either on-site or online) or private tutoring plans, and we also offer GRE practice tests and various application advisory services.
Graduate school applicants are commonly unaware of GRE score ranges for all test-takers and for their preferred programs, and therefore often have difficulty defining a "good" GRE score. An obvious starting point is overall sectional averages. According to ETS, the administrator of the GRE, the most recent mean scores are 150.22 verbal, 152.47 quantitative, and 3.5 analytical writing (this data is based on approximately 1.7 million prospective graduate students over three years). Averages for specific graduate programs can be higher or lower, depending on institutional rank, subject-matter emphasis, or the size of the applicant pool. Princeton University, for example, reports GRE averages for all graduate students of 159 verbal, 159 quantitative, and 4 analytical writing, but this varies by discipline (engineering students were below this level in verbal at 158, but above in quantitative at 163). At Manhattan Review, we ultimately define "good" GRE performance in terms of scores that are above institutional averages, which maximize the chances of acceptance.
Manhattan Review's GRE prep courses and private tutoring are strongly associated with elite graduate school admission. Our clients have been accepted to master's and doctoral programs in all GRE-relevant disciplines, at top schools such as Yale, Harvard, Princeton, Stanford, the London School of Economics, the University of Edinburgh, UC Berkeley, MIT, Johns Hopkins, Georgetown, the University of Pennsylvania, the University of Melbourne, Oxford, Cambridge, and many more. We make every effort to keep track of our former students, and we are proud to report that they have become successful in both private and public sector careers. Some have been hired by Fortune 500 companies or Cambridge businesses, including General Motors, Cardinal Health, Bank of America, Proctor & Gamble, GB Innomech, Visual Planet, Camcon Technology, and Cambridge University Press. Others have opted for public service jobs such as teaching, research, governmental administration, or philanthropy. All of these successful professionals got accepted to graduate school with the help of Manhattan Review's GRE prep courses or private tutoring, and we encourage you to do the same.

I would like to let you know that I took the GRE on Monday, December 6th and earned a score of 1200 (600 verbal, 600 quantitative). I think that I did very well on the essay portion of the test as well but won't receive those scores in the mail for a couple weeks or so. I would like to thank my instructor (George S.) and Manhattan Review for helping me to increase my score so much (I got a 1050 the first time I took the GRE in 2002) Thank you very much.
- Tamara (This student took a GRE class)
Cambridge
Primary Course Venue:

Doubletree by Hilton Cambridge
Granta Place Mill Lane
Cambridge CB2 1RT, England

NOTE: We do NOT typically have staff at the venue, so email us before visiting the venue.
Meet a Cambridge GRE Tutor: Krista L.
Krista L., who was born and raised in London, has been a GRE tutor for Manhattan Review since 2011. She has now taught GRE prep to more than 500 students as a group instructor or private tutor, and she has been working in Cambridge for the past two years. Her students describe her as a "kind and caring teacher," "a highly intelligent and effective educator," and "the type of person you'd want to hang out with."
Krista holds bachelor's and master's degrees in art history, the former from Duke University and the latter from UC Davis. She was previously an adjunct professor at a small liberal arts college outside of Los Angeles, and she has also worked as a freelance writer and editor. In her spare time, Krista enjoys taking long walks with her dog, various forms of aerobic exercise, and reading classic British fiction.