Best GMAT Test Prep Courses in Cambridge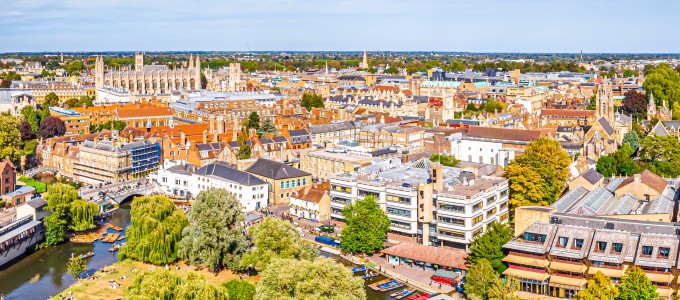 Manhattan Review is an innovative educational services company that offers several different learning options for the Graduate Management Admission Test (GMAT). Business school applicants in the Cambridge area can receive the GMAT scores they seek with our traditional GMAT prep courses, cutting-edge online GMAT instruction, or GMAT private tutoring. We are also a trusted provider of MBA admissions consulting services and GMAT practice tests. Manhattan Review has been synonymous with student success since our company was established in 1999, and we have helped thousands of our clients get accepted to their first-choice business schools. Manhattan Review's GMAT teaching leads the industry with original instructional methodologies, outstanding course materials, and the most highly credentialed GMAT tutors and instructors available. All of our in-person learning programs meet at convenient times and locations, and our online options feature easy access to repeated lecture viewings. Learn more about our GMAT prep services for students in Cambridge by contacting our helpful support staff today. We'll be happy to answer your questions by phone, email, or online.
For students hoping to get accepted to graduate business programs, the GMAT is far more than a formality. Many applicants have little idea how important the GMAT is to the success or failure of business school applications, and they often know even less about GMAT score expectations at specific business schools. Fortunately, this information is widely available online via business school class profiles, which typically list academic and demographic information on accepted students. Median GMAT scores at the top business schools in the United States are invariably above 700, such as Harvard Business School (730), the Stanford Graduate School of Business (733), the University of Chicago's Booth School of Business (726), the Wharton School at the University of Pennsylvania (730), and MIT's Sloan School of Management (710). Although scores below these levels do not necessarily preclude acceptance, meeting or exceeding institutional averages will give most students their best odds of admission. Manhattan Review's GMAT prep courses and private tutoring have helped students get accepted to all of the above schools and many more.
There is a strong link between business school prestige and post-MBA starting salaries, and the top programs tend to produce the most highly compensated business professionals. According to U.S. News & World Report, Harvard Business School graduates earn an average of almost $150,000 per year in salary and bonuses immediately after graduation. At MIT Sloan and Wharton, the average compensation is $146,201 and $146,761 respectively. Fortune magazine recently reported that completion of an MBA resulted in an average yearly salary gain of $45,000. Manhattan Review's GMAT clients have advanced their careers through graduate business training. Our former students work for many of the top companies in the United States, including Berkshire Hathaway, Prudential Financial, CVS Health, and Archer Daniels Midland. They've also been hired by Cambridge companies such as Acorn Computers, Sinclair Research, Global Silicon, and Transversal Corporation. Business school applicants should think of the GMAT as a gatekeeper to high-quality business training and career success. Manhattan Review's GMAT prep services in Cambridge will help get you through the gate and on your way to a prosperous future.

I needed to improve my quantitative score from 55 to 70% within a month. We met for 10hrs. I just took the test this past Saturday and scored within the 72 percentile, and will be attending Cornell in the fall. I'm psyched! Dan was very professional and prepared for all meetings. He was able to give me a lot of test-taking tips and set up an aggressive study strategy.
- Rachel (This student took advantage of our private tutoring)
Cambridge
Primary Course Venue:

Doubletree by Hilton Cambridge
Granta Place Mill Lane
Cambridge CB2 1RT, England

NOTE: We do NOT typically have staff at the venue, so email us before visiting the venue.
Meet a Cambridge GMAT Tutor: Mario A.
Mario A., originally from Naples, Italy, is a graduate of Johns Hopkins University and the Yale School of Management. In his primary occupation, he is a financial analyst with experience working for three New York City firms. He has been a part-time GMAT tutor since 2011, and relocated to Cambridge in 2016. He is currently employed by a Cambridge pharmaceutical company.
One of Mario's specialties as a GMAT tutor is teaching GMAT prep to international students, as he personally experienced this challenge himself. He has taught GMAT prep to students from all over the world, including several countries in Europe, Asia, and Africa. Mario's GMAT students have been accepted to the business schools at Stanford, Dartmouth, Yale, Georgetown, and the University of Virginia.