Best GMAT Tutoring in Oxford (England)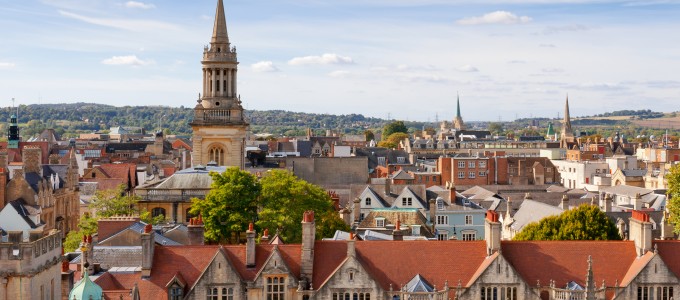 Manhattan Review in Oxford offers local business school applicants a variety of effective preparation services for the Graduate Management Admission Test (GMAT). Our one-on-one GMAT tutoring plans implement customized instruction that is derived from our assessment of individual student characteristics such as undergraduate field of study, GMAT expectations, optimal learning style, and GMAT strengths and weaknesses. Students in Oxford can also choose our group GMAT courses (available on-site or online), and all students can benefit from our GMAT practice tests and MBA admissions consulting services. Manhattan Review has been a leading innovator in GMAT teaching in learning since our company was founded in 1999, and we are among the world's best resources for rigorous GMAT preparation that helps students accomplish their academic and professional goals. Our Oxford GMAT tutors and instructors possess all of the necessary academic and business credentials, and they are experienced GMAT educators who are passionate about student achievement. Find out more about our Oxford GMAT prep services by contacting us online, by phone, or by email.
Many prospective graduate business students are surprised to learn that the GMAT is not a test of business skill or knowledge. The GMAT does evaluate certain general intellectual abilities that have long been regarded as crucial to success in graduate business courses. This is accomplished via sections devoted to quantitative reasoning, verbal reasoning, integrated reasoning, and analytical writing. As students become more familiar with the GMAT, it is usually not difficult to see the relevance of these skills to advanced business training and the real world of business. It is, however, very important for students to realize that successful performance on the GMAT is a highly specialized skill that requires serious and informed instruction. Regardless of a student's inherent verbal or quantitative skills, taking the GMAT mandates an intimate understanding of the unique ways in which these skills are assessed on the exam. This is why self-study methods nearly always produce substandard results.
Manhattan Review's GMAT prep courses and private tutoring give our students all of the advantages of highly professionalized GMAT instruction, which include regular and detailed assessment of progress, productive instructor/student interaction, and assimilation of optimal study techniques. The success of our GMAT teaching has been demonstrated by our students' acceptance to world-class business schools such as Wharton, Harvard, Stanford, Oxford, the University of Virginia, UC Berkeley, Cambridge, London Business School, the University of Chicago, Dartmouth, MIT, and many more. Our past GMAT clients have been hired by Fortune 500 companies and firms in Oxford, including Berkshire Hathaway, Microsoft, Enterprise Products Partners, Archer Daniels Midland, Exient Entertainment, Amey plc, Oxford Nanopore Technologies, and Unipart Group. The cost of Manhattan Review's GMAT prep services in Oxford is a small price to pay for the exponential benefits of a top-quality graduate business education. Effective GMAT prep is one of the best investments you can make in your future.
GMAT Private Tutoring
Hours package 12 to 48 hours, Personalized 1-on-1 Tutoring, In Person or Live Online
GMAT Private Course
12 hours in total, Personalized 1-on-1 Course, In Person or Live Online

Today I scored 610 for my GMAT. This is 70 points up from the first time I took it. The Manhattan Review weekend course certainly helped me to improve my score!
- Saskia (This student took our Amsterdam GMAT weekend course)
Oxford
Primary Course Venue:

Royal Oxford Hotel
Park End Street
Oxford OX1 1HR, England

NOTE: We do NOT typically have staff at the venue, so email us before visiting the venue.
Meet an Oxford GMAT Tutor: Padraig C.
Padraig C., an American of Irish descent, has been a GMAT tutor for eight years. He began his GMAT teaching career in his native Los Angeles, and also taught GMAT prep in New York City before relocating to Oxford in 2015. He has been successful as an independent businessman, starting a boutique chocolate company that he later sold at a substantial profit. He currently works as an accountant for a London food manufacturer.
Padraig holds a bachelor's and master's degrees in accounting from UCLA and an MBA from NYU's Stern School of Business. A former Manhattan Review client, he received a total GMAT score of 730 with the help of our private GMAT tutoring. Padraig students regard him as an enthusiastic educator who greatly enjoys teaching GMAT prep, which allows him to help others achieve success and keep his own mental skills in top condition.