Best GMAT Test Prep Courses in Edinburgh (Scotland)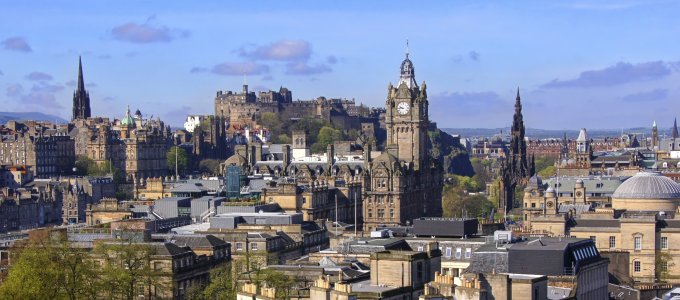 Edinburgh students who wish to gain admission to elite business schools should consider the Graduate Management Admission Test (GMAT) prep courses and private tutoring offered by Manhattan Review. Our company has been helping students get accepted to Stanford Graduate School of Business, the University of Chicago's Booth School of Business, the London School of Economics, Northwestern University's Kellogg School of Management, the University of Edinburgh Business School, and many others since 1999. Our former students have become employees of Edinburgh's most important companies, including Mid Wynd International Investment Trust, Bank of Scotland, Caledonian Brewery, and MacFarlan Smith. We also have a large number of past students who now have lucrative business careers at Fortune 500 companies such as IBM, Boeing, Home Depot, and Morgan Stanley. At Manhattan Review, we look forward to helping our future students become as successful as their predecessors.
The GMAT is a 3.5 hour test that evaluates quantitative, verbal, and integrated reasoning and analytical writing. It is taken by over 250,000 people in over 100 countries each year. Total scores range from 200 to 800, with an average overall score of about 540. Students accepted to widely respected business schools must generally demonstrate above-average performance on the GMAT. The University of Edinburgh Business School, for example, requires a minimum score of 600. The average student at the London School of Economics scored about 690, which is similar to the median scores of accepted students at Duke University's Fuqua School of Business (695), the University of Indiana's Kelley School of Business (680), and Vanderbilt University's Owen Graduate School of Business (690). Average scores at the most highly ranked institutions exceed even these levels, such as Stanford (740), Harvard (730), and the Wharton School (720). Manhattan Review's GMAT prep courses will help you meet the high standards of your chosen program.
It is important for GMAT test-takers to keep in mind that the GMAT does not attempt to measure either business skills or knowledge. Some prospective graduate business students are mid-career professionals, while others are recent graduates. Both of these types of students are in need of GMAT preparation, but for different reasons. Seasoned professionals will need to become reacquainted with academic life, while recent graduates will need to prepare for study at the next level. Manhattan Review has a good deal of experience teaching many different types of students, and our GMAT prep courses and private tutoring can accommodate these diverse types of business school applicants. Contact us right away for more information on how we can help make your business school dreams a reality.

I wanted to let your team know that I am going back to Europe this fall as I am accepted to Oxford University MBA. Thanks for all the help.
- Siret (This student took our New York GMAT course)
Edinburgh
Primary Course Venue:

Marriott Edinburgh
111 Glasgow Road
Edinburgh EH12 8NF, Scotland

NOTE: We do NOT typically have staff at the venue, so email us before visiting the venue.
Meet an Edinburgh GMAT Tutor: Rana O.
Rana O. is an Iranian-American who has been living in Edinburgh since 2011. She was born and raised in Pittsburgh, Pennsylvania, where her parents emigrated from Tehran in the wake of the 1979 revolution. Rana is a graduate of Carnegie Mellon University, where she completed an undergraduate business degree and an MBA at the Tepper School of Business. She has worked as a mid-level manager for a major Pittsburgh financial services firm and taught business courses part-time at several Pittsburgh-area high schools and colleges. She was also active as a volunteer, helping charities manage their finances.
The primary reason for Rana's relocation to Edinburgh was her marriage to a Scottish businessman, who was eager to return home to pursue various investment opportunities. She has found that her background in business and teaching, together with her upper-percentile GMAT scores, have made her an in-demand GMAT tutor. "This is the perfect job for someone like me," she says. "My skills are put to good use, and I have a flexible schedule that allows me to enjoy everything that Edinburgh has to offer." Rana's GMAT tutoring clients have been accepted to several highly ranked business schools, and they consistently point to the high GMAT scores she helped them achieve as a major reason for their success.