Best GMAT Test Prep Courses in Manchester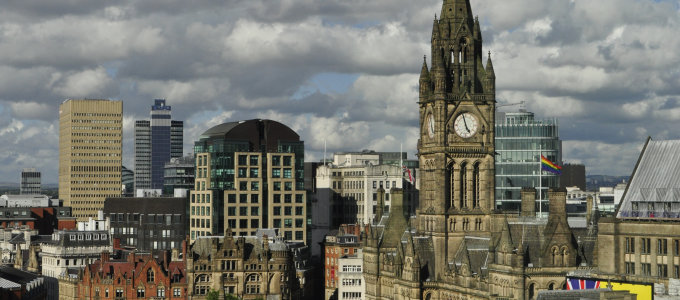 Manchester students interested in preparation services for the Graduate Management Admission Test (GMAT) can have confidence that Manhattan Review will make the most of their natural abilities. Our company has been guiding students in Manchester and other cities to successful business school applications since 1999. Manhattan Review's GMAT prep classes are taught by veteran tutors with solid academic credentials and real-world business experience. Our courses have been developed in conjunction with the latest research on the GMAT, and incorporate the best practices of our many years teaching GMAT prep to thousands of students. Whether you seek a Master of Business Administration, Master of Accountancy, Master of Finance, or other degree, Manhattan Review's GMAT prep classes will combine with your talent to produce GMAT scores that will stand out to admissions committees.
The GMAT has been administered since 1953 by an organization now known as the Graduate Management Admission Council (GMAC). The test's use has grown immensely since its inception, from just 2,000 applicants to 54 business schools the first year the test was offered to the current rate of over 230,000 annual applicants to 5,900 programs at 2,100 institutions. The GMAT's growth can be attributed to its wide acceptance as a predictor of business school success, although the link between business school rankings and the scores of their accepted students is also a factor. Strictly speaking, the test does not evaluate business skills, but its four sections (quantitative, verbal, integrated reasoning, and analytical writing) are considered crucial to academic performance in the business school environment. Manhattan Review's GMAT prep classes and private tutoring give our students the skills they need for high scores on this challenging test, which leads to both a stronger business school application and, by extension, better grades in business school classes.
The effectiveness of Manhattan Review's GMAT prep courses and private tutoring is shown by our students' success in business school and in professional life. Our clients have been accepted to the University of Chicago's Booth School of Business, the University of Pennsylvania's Wharton School, Dartmouth College's Tuck School of Business, Carnegie Mellon University's Tepper School of Business, Manchester Business School, and many other outstanding programs. A number of these students have completed their degrees and now contribute to Manchester's top companies, such as the Churchill Machine Tool Company, SimpsonHaugh and Partners, Urban Splash, and Fairfield Materials Management. Other Manhattan Review graduates work at Fortune 500 companies, including Berkshire Hathaway, General Electric, Ford Motor, and JP Morgan Chase. Contact Manhattan Review today, and our helpful support staff will be happy to give you more information on how we can help you get accepted to your chosen business school and get you on your way to a distinguished business career.

I took the GMAT today and got an unofficial score of 720 (47 quantitative / 42 verbal)! I'm quite satisfied, given the short time I had to prepare.
- Martin (This student took our Frankfurt GMAT weekend course)
Manchester
Phone: +44 161 884 0149

Primary Course Venue:

Manhattan Review GMAT GRE TOEFL
Prep & Admissions Consulting
Suite 10, 111 Piccadilly
Manchester M1 2HX, England

NOTE: We do NOT typically have staff at the venue, so email us before visiting the venue.
Meet a Manchester GMAT Tutor: Monica J.
Monica J. is originally from Kansas City, Missouri. She has been in business since she was 10 years old, helping out in her parents' grocery store. She majored in finance at Washington University in St. Louis, and started her own 24/7 tutoring business to meet the demand of students cramming for exams. She then completed an MBA at the Georgia Institute of Technology's Scheller College of Business while working as a GMAT tutor for several companies in the Atlanta area.
Monica eventually brought her original ideas about the tutoring business to Manhattan Review. We initially hired her as a consultant and GMAT tutor for our Atlanta office, but when she proposed some innovative methods of tutoring international applicants to American universities, we transferred her to Manchester. Her students appreciate her combination of entrepreneurial spirit and tutoring experience, and many of these students have been admitted to business programs ranked in the top 25. Monica is also an accomplished amateur trumpet player, and frequently sits in with chamber ensembles at the Royal Northern College of Music.