Best LSAT Test Prep Courses in Edinburgh (Scotland)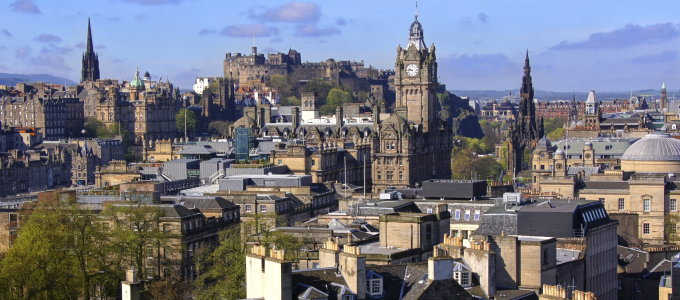 Edinburgh students applying to law school in the United States can greatly improve their prospects with Manhattan Review's prep classes and private tutoring for the Law School Admission Test (LSAT). We have been providing unmatched LSAT prep to students in the United States, United Kingdom, and worldwide since 1999. Students who have taken our LSAT prep classes have been accepted to a number of the best institutions for legal training in the United States, including Georgetown Law Center, Harvard Law School, the University of Virginia School of Law, the University of California's Hastings College of the Law, and Yale Law School. Many of our former students are now practicing attorneys at Hogan Lovells, Squire Patton Boggs, King & Spalding, Paul Hastings, and other prominent firms, working in nearly every area of the legal profession. Manhattan Review's expert LSAT guidance ensures that our Edinburgh students demonstrate the academic and professional potential that selective law schools expect from their applicants.
The Law School Admission Council, the organization that administers the LSAT, recommends substantial advance preparation before attempting the test, noting that very few students succeed without careful prior study. With its rigorous evaluation of reading comprehension, analytical and logical reasoning, and writing, the LSAT presents test-takers with several difficulties. Manhattan Review's LSAT prep courses help our students develop the skills necessary for outstanding scores through concentration on both the material itself and the manner in which it is tested. Our LSAT prep classes are taught by instructors with upper-percentile test scores, degrees from elite universities, devotion to teaching, engaging methods of instruction, and interesting lives outside of teaching. Other test prep companies care only about an instructor's own test scores, but we consider the whole person when making our hiring decisions. Manhattan Review's LSAT prep courses combine meticulous course design with outstanding teaching to ensure that our students are ready for the challenges of the LSAT.
A law school applicant's LSAT score can often be the most important element of their law school application. Many admissions committees view grade point average and letters of recommendation with skepticism, since curricular rigor can vary greatly from school to school and recommendations can be affected by personal bias. The LSAT is therefore frequently seen as the most objective of admissions criteria, although the link between law school rankings and the average LSAT scores of accepted students is certainly also a factor. Prospective law students should view this emphasis on standardized testing as an opportunity to demonstrate academic potential rather than a myopic and unfortunate obstacle to holistic admissions decisions. Taking the LSAT is a skill that can be acquired with proper instruction, and high LSAT scores will greatly increase the odds of admission for any student. Manhattan Review's LSAT prep courses maximize the results of our students' abilities and effort to produce LSAT scores that stand out from the competition.

Hello, I just wanted to let you know that the current class that i am taking is really helping my studies. George has been a great help and I thank you for fitting the class into my busy schedule.
- Simone (This student prepared for the LSAT with us)
Edinburgh
Primary Course Venue:

Marriott Edinburgh
111 Glasgow Road
Edinburgh EH12 8NF, Scotland

NOTE: We do NOT typically have staff at the venue, so email us before visiting the venue.
Meet an Edinburgh LSAT Tutor: Kenny S.
Kenny S. was born and raised in Glasgow, Scotland. He holds a BA in political science from Vanderbilt University and a JD from the College of William and Mary Law School. He returned to Scotland after finishing law school to accept a position with an Edinburgh firm, as an expert in U.S. regulatory compliance. He has worked as an LSAT tutor since his first year of law school, where his own high LSAT scores led to his hiring by a national test prep company.
Manhattan Review recruiters met Kenny at an Edinburgh conference focused on various issues within the local business community. We were impressed by his background, and he agreed to tutor for us while keeping his day job. Kenny's students often note that he has the "perfect combination of education and experience" for effective LSAT tutoring, and many of them are now law students in the United States. Though he realizes that it is something of a cliché, Kenny's favorite hobby is playing the bagpipes.