Best SAT Test Prep Courses in Cambridge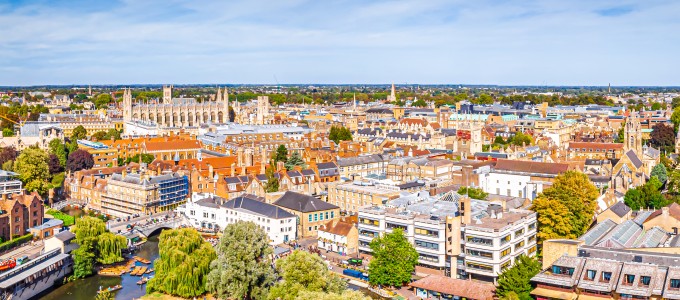 Manhattan Review is an international education company that provides the most effective and flexible SAT prep services available in Cambridge. Students who are most comfortable in group settings should choose our SAT prep courses, which are delivered either on-site or online. Test-takers who wish to receive personalized instruction should opt for our one-on-one SAT tutoring, which targets SAT teaching to the characteristics of each individual student. All in-person SAT learning programs are offered at convenient locations around Cambridge, and all of our SAT courses and tutoring plans are given at times that accommodate busy student schedules. Manhattan Review was founded in New York City in 1999, and we have since expanded into a worldwide test prep company with thousands of currently enrolled students. Our global footprint has given us more experience teaching non-American students than any of our competitors, most of whom are unable to provide the specialized teaching that international students require.
The sheer amount of SAT prep materials and offerings available in today's marketplace is daunting. A quick internet search will yield hundreds of inexpensive books, videos, and courses. Students preparing for the SAT should review their options cautiously, and there are several reasons for this. First of all, the SAT was substantially revised in 2016, and many available materials are of little use in preparing for the new SAT. Second, even if books and videos are intended for the revised SAT, these methods are less than ideal due to the lack of a live teacher. Professional instruction provides the targeted skill development, instructor feedback, and regular assessment that self-study materials simply cannot offer. Finally, there is no official certification for SAT instructors. Anyone can call himself or herself an SAT tutor. Manhattan Review students avoid all of these pitfalls by signing up with a company that has a proven record of success, a team of highly qualified instructors, and legitimacy that can be verified through independent sources.
Manhattan Review's SAT prep courses and private tutoring have helped thousands of students meet institutional SAT expectations and get accepted to world-class universities such as Princeton, Harvard, Stanford, MIT, Yale, UC Berkeley, Dartmouth, Cornell, the University of Pennsylvania, Brown, CalTech, UCLA, Georgia Tech, and many more. Former Manhattan Review clients have been hired by many of America's top companies, including Fortune 500 firms such as State Farm Insurance, Johnson & Johnson, Marathon Petroleum, and United Technologies. We also have former students now working for Cambridge companies such as Imagen, Adder Technology, Open Book Publishers, and Team Consulting. High SAT scores greatly increase the chances of acceptance to the best colleges, and graduates of elite institutions generally make the highest salaries. According to a recent survey, typical early-career annual salaries for undergraduate alumni of MIT, Stanford, and Harvard are $74,900, $65,900, and $61,400 respectively. Manhattan Review's SAT prep courses and private tutoring will provide exponential returns on a small investment.

Good SAT test taking strategies learned. I developed new skills and feel more prepared.
- Kevin Gonzalez (This student took our SAT preparation course)
Cambridge
Primary Course Venue:

Doubletree by Hilton Cambridge
Granta Place Mill Lane
Cambridge CB2 1RT, England

NOTE: We do NOT typically have staff at the venue, so email us before visiting the venue.
Meet a Cambridge SAT Tutor: Nadia Z.
Nadia Z. was born in Moscow and grew up near Des Moines, Iowa, where she was the valedictorian of her high school class. She accepted a full scholarship to UCLA, completing a bachelor's degree in biology, and later took her master's degree in biochemistry from Georgetown University. She is now working for a Cambridge biotech company, and she has lived in the UK since 2015.
Nadia now has almost ten years of experience as an SAT tutor, and she taught SAT prep in the Los Angeles and Washington, D.C. areas before relocating to Cambridge. Her students have been accepted to Ivy League schools such as Yale, Brown, and Cornell; elite public colleges such as UC Berkeley, the University of Virginia, and the University of Georgia; and private liberal arts colleges such as Williams, Amherst, and Swarthmore.