Best SAT Test Prep Courses in Oxford (England)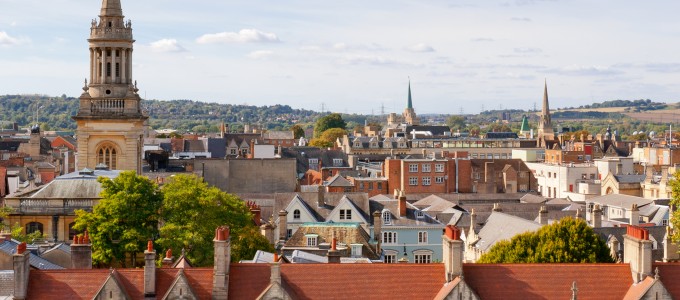 Manhattan Review offers the most effective SAT prep services available in the Oxford region. Our SAT offerings in Oxford include on-site prep courses, classroom instruction in online interactive format, private tutoring, and practice tests. Manhattan Review has helped thousands of students earn their highest possible SAT scores, and our company has been synonymous with academic achievement since we were founded in 1999. One of our specialties as educators is teaching students from outside the United States how to master American standardized tests. British students taking the SAT can be at a disadvantage due to the fact that the test is a product of a related but unfamiliar culture, and we have developed our SAT learning programs to accommodate the common challenges that confront international test-takers.
Manhattan Review's SAT prep services consistently outperform other available options, which include self-study methods, online prerecorded instruction, and instructional books or DVDs. Other methods usually fail for a variety of reasons, such as the absence of a live teacher, the lack of accurate assessment, or instructor inexperience. Manhattan Review's course materials and instructional methodologies have been developed by career educators who are experts in SAT teaching and learning. Our SAT prep courses and private tutoring plans are taught by Oxford's most qualified SAT private tutors and classroom instructors, who have been thoroughly trained the implementation of our unique SAT courses.
Manhattan Review students have been accepted to the best universities in the United States, such as Princeton, Yale, Harvard, MIT, Stanford, Brown, the University of Pennsylvania, Carnegie Mellon, Johns Hopkins, the University of Chicago, UC Berkeley, Dartmouth, Cornell, Georgetown, Duke, and the University of Virginia. The companies that have hired our former SAT clients include Fortune 500 firms such as Berkshire Hathaway, JP Morgan Chase, Bank of America, and CVS Health, and we have former clients now working for local businesses such as Oxford University Press, Oxford Analytica, Wiley-Blackwell, and Electrocomponents. We've had students pursue careers in almost every field, including the liberal arts, sciences, the legal profession, and civil service.
The most recent available data shows that the SAT standards at top American universities are high. SAT scores for reading in math are, on average, 700 or above in each at the most prestigious private schools, and elite public universities are not far behind at about 650 per section. SAT performance at selective colleges has grown substantially over the past 10 years, and this trend is likely to continue. Manhattan Review's SAT prep services in Oxford produce competitive test-takers who are able to meet the highest expectations. We'll help you make the most out of your efforts and significantly enhance your college applications. Your future is too important to entrust to second-rate SAT preparation. At Manhattan Review, we provide an educational experience that matches the highest levels of student ambition.

Good SAT test taking strategies learned. I developed new skills and feel more prepared.
- Kevin Gonzalez (This student took our SAT preparation course)
Oxford
Primary Course Venue:

Royal Oxford Hotel
Park End Street
Oxford OX1 1HR, England

NOTE: We do NOT typically have staff at the venue, so email us before visiting the venue.
Meet an Oxford SAT Tutor: Chase R.
Chase R. was born and raised in Concord, New Hampshire, where he finished 12th in a high school class of 1600. He completed an undergraduate degree in mathematics at Johns Hopkins and a master's degree in statistics at the University of California-Los Angeles. He is currently a statistician for an Oxford research firm, and has lived in the area since 2014.
Chase's career as an SAT tutor began during his freshman year at Hopkins, and he now has over 11 years of experience. He has been employed by Manhattan Review since 2011, previously teaching for us in southern California. He has successfully taught an extremely diverse group of students in terms of nationality, native language, and socio-economic status, and he prides himself on his adaptability as an educator.