Best SAT Test Prep Courses in Edinburgh (Scotland)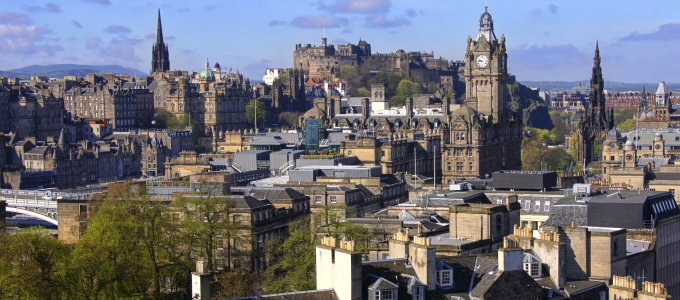 Manhattan Review is a test prep company that has been teaching students in Edinburgh and other world-class cities how to study for the SAT since 1999. Our services include on-site SAT prep classes in Edinburgh, SAT prep classes in online interactive format, private SAT tutoring in Edinburgh, SAT practice tests, and admissions consulting. Our SAT prep services have helped both first-time and repeat test-takers reach the score levels necessary for acceptance into the best universities in the United States, United Kingdom, and around the world. The quality of our SAT prep courses and private tutoring is derived from our meticulous approach to course design, implementation, and learning philosophy. Manhattan Review's SAT instructors and tutors are the most qualified in the industry, with impressive credentials and years of successful teaching experience. At Manhattan Review, your ambition is our ambition. After you contact us for more information, you'll be convinced that we can help you achieve.
Manhattan Review's SAT prep classes and private tutoring have been key factors in our students' acceptance into selective universities such as Stanford, Yale, Cornell, Princeton, Duke, and the University of Edinburgh. Our past students have completed degrees in virtually every field, from the liberal arts to the hard sciences. They've built careers in the private sector, at Fortune 500 companies (including Amazon.com, Archer Daniels Midland, and State Farm Insurance) and Edinburgh outfits (such as Baillie Gifford Shin Nippon, Pacific Horizon Investment Trust, and Dunedin Academic Press). Our former students are also now engaged in various public sector careers, as educators at the primary, secondary, and tertiary levels, researchers for public organizations, civil servants at all levels of government, and employees of charitable foundations. Our current students draw inspiration from the success of our past students, and we hope that you'll join us.
It is important for today's students to be aware of the changes made to the 2016 version of the SAT. The test's content and scoring have been revised, with a greater emphasis on contextual verbal skills, a streamlining of the mathematical concepts evaluated, a greater range of subjects, and a return to the old 1600 point scale all featured in the most recent version of the test. These changes make some (but not all) of the conventional principles surrounding SAT prep obsolete. Manhattan Review's SAT prep classes and private tutoring stand out from the competition with our up-to-date knowledge of the SAT and our implementation of the best strategies associated with both recent and historical versions of the test. We are not satisfied to simply recycle the teaching strategies of earlier generations, but at the same time we are not dismissive of the tried and true. Manhattan Review's broad philosophy results in SAT prep services that are the perfect combination of cutting edge modernity and timeless pedagogical tradition.

I like the amount of attention given to the topic and the instructor helped very much. She did a great job! My score on my diagnostic SAT went up 260 points!
- Chelsea (This student took our SAT preparation course.)
Edinburgh
Primary Course Venue:

Marriott Edinburgh
111 Glasgow Road
Edinburgh EH12 8NF, Scotland

NOTE: We do NOT typically have staff at the venue, so email us before visiting the venue.
Meet an Edinburgh SAT Tutor: Tanya D.
Tanya D. is a product of the public schools in her native Los Angeles. She majored in education at the University of California, Los Angeles, and also holds a master's degree from the University of Southern California. She began her teaching career at the same public high school from which she graduated, and quickly began tutoring her students in SAT prep on the side. Her primary area of expertise is English literature, but she has also assisted colleagues in Advanced Placement mathematics.
Tanya relocated to Edinburgh after attending a conference in the city. She was inspired by Edinburgh's intellectual and educational community both past and present, and saw a need for someone from her background to serve the city's growing minority student population. In addition to her SAT tutoring for Manhattan Review, Tanya works for a private foundation that seeks to improve educational outcomes for all students. She is one of Manhattan Review's most sought-after SAT tutors, and is in general an educator of significant accomplishment.