Best TOEFL Tutoring in Cambridge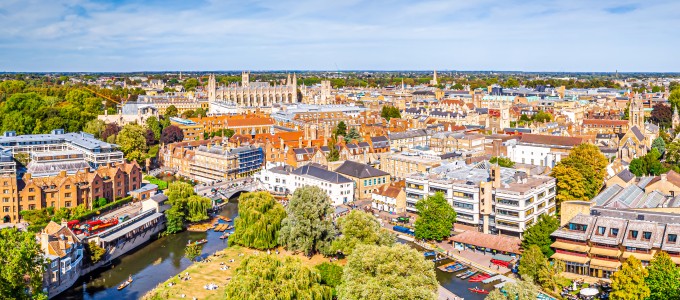 Cambridge area students taking the Test of English as a Foreign Language (TOEFL) should contact Manhattan Review right away for information on our local TOEFL prep services. Manhattan Review has been providing effective and convenient TOEFL learning programs to students around the world since 1999. Our offerings for Cambridge students include TOEFL prep classes (available in either on-site or online formats), TOEFL private tutoring, and TOEFL practice tests. Manhattan Review's TOEFL prep classes and private tutoring plans are taught by the most qualified and talented TOEFL educators available. Our TOEFL programs include top-notch course materials, original and accessible methods of instruction, and engaging modes of delivery to ensure maximum effectiveness. Manhattan Review is a company that is primarily dedicated to the international marketplace for standardized test preparation, and we have an unmatched level of experience with this unique and diverse student population. We'll show you how to most efficiently pass the TOEFL, regardless of your current command of the English language.
Independent research has shown the TOEFL to have validity in demonstrating English-language skills. A 2013 study of over 600 students in China, for example, found data that was "consistent" with the notion of TOEFL scores "as indicators of English-language proficiency." Another paper published in 2016 found TOEFL listening scores to be reliably associated with various measures of teaching ability among international graduate teaching assistants. The TOEFL has been given since 1964, and is accepted as proof of English-language competence at nearly all universities in English-speaking countries. TOEFL prep is therefore considered a reliable way to learn English for use in academic contexts. Manhattan Review's TOEFL prep courses and private tutoring help our students master each section of the TOEFL, learn to manage their study time effectively, and take the test in a strategic fashion in order to maximize scores. Just as importantly, Manhattan Review TOEFL students learn the English language skills that they need in order to be successful in their degree programs.
Manhattan Review's TOEFL prep courses and private tutoring have guided thousands of students to the TOEFL scores required by their chosen postsecondary institutions. Our clients have studied at many of the best universities in the English-speaking world, including Princeton, Cambridge, Harvard, Oxford, Yale, Stanford, the University of Edinburgh, the University of London, MIT, the University of Pennsylvania, the University of Michigan, the University of Chicago, and the University of Virginia. Our clients have been given numerous employment opportunities after graduation. Some have been hired by Fortune 500 companies, including Wells Fargo, JP Morgan Chase, United Technologies, and Dow Chemical. Others have opted for jobs at the top firms in their native countries. With Manhattan Review's TOEFL prep services in Cambridge, you can pass the TOEFL and get started on the future of your dreams.
TOEFL Private Tutoring
Hours package 12 to 48 hours, Personalized 1-on-1 Tutoring, In Person or Live Online
TOEFL Private Course
12 hours in total, Personalized 1-on-1 Course, In Person or Live Online

She is great! She is able to involve all the participants. She is clear, and she always keeps the attention of the class.
- Matteo (This student took our Columbia Business School Communication and Culture boot camp.)
Cambridge
Primary Course Venue:

Doubletree by Hilton Cambridge
Granta Place Mill Lane
Cambridge CB2 1RT, England

NOTE: We do NOT typically have staff at the venue, so email us before visiting the venue.
Meet a Cambridge TOEFL Tutor: Etienne F.
Etienne F. is originally from Corsica, where his family owns a small auto repair shop. He completed a bachelor's degree in economics at Johns Hopkins University and a master of accounting at the University of Southern California's Marshall School of Business. He currently splits his time between TOEFL prep tutoring and a job as a staff accountant for a Cambridge tech company. He worked at a Los Angeles area bank for five years before returning to Europe in 2013.
Etienne has taught TOEFL prep in classroom and private settings for the past seven years. His training in economics has helped him develop complex assessment models for his TOEFL students, which he uses to find and address areas of TOEFL weakness. His students appreciate his statistical approach to teaching, and it gives them confidence to see concrete measures of progress that are far more detailed than section scores. In his spare time, Etienne enjoys working on cars, debating international politics, and following association football.