Best TOEFL Tutoring in Oxford (England)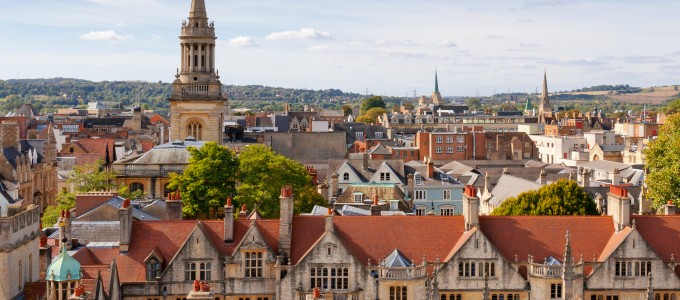 International students living in the Oxford area can receive reliable, engaging, and effective preparation services for the Test of English as a Foreign Language (TOEFL) from Manhattan Review, an international test prep firm that has helped thousands of students since its founding in 1999. Our TOEFL offerings in Oxford include traditional group TOEFL classes that meet at convenient locations in Oxford, online TOEFL classes that make use of cutting-edge educational technology, customized private TOEFL tutoring specially designed for each client, and TOEFL practice tests that are invaluable to the TOEFL preparation process. All of our TOEFL learning plans are built on original methods of TOEFL instruction, TOEFL course materials created by professional test prep educators, and time-tested course syllabi that cover all of the major and minor areas of TOEFL prep. Manhattan Review's TOEFL prep courses and private tutoring plans are taught by highly qualified TOEFL educators, all of whom are graduates of elite universities and experienced teachers who have undergone meticulous and lengthy training in Manhattan Review's unique approach to TOEFL teaching and learning. We are quite simply the best TOEFL resource in Oxford.
Manhattan Review has taught countless students how to receive the TOEFL scores required by elite universities such as Oxford (minimum composite score of 110), Princeton (108), the Massachusetts Institute of Technology (100), Harvard (100-109, depending on the specific program), Johns Hopkins (100), Cornell (100), Columbia (100), and New York University (92). We've also helped students meet the standards of schools with lower TOEFL expectations, such as UCLA (83), UC Berkeley (80), the University of San Francisco (80), and SUNY Buffalo (79). Many of our former TOEFL clients have finished their degree programs and become vital employees of Fortune 500 companies, including Microsoft, Express Scripts Holdings, General Motors, and United Technologies, and we've also seen our students hired by Oxford firms such as Jack FM 2, Signal Books, Oxfam Great Britain, and Oxford University Press. Contact us for more information on our history of success, our course offerings, or for answers to any of your questions.
Manhattan Review's private TOEFL tutoring features customized learning plans that accommodate the individual characteristics of each TOEFL student. We thoroughly assess each client in terms of prior coursework, preferred undergraduate or graduate degree programs, optimal TOEFL score ranges, preferred learning style, and cultural background. We then develop a unique learning plan that maximizes the benefits of the student's academic strengths and allows him or her to build up their TOEFL weaknesses in the most effective possible manner. This targeted TOEFL teaching results in the highest possible test scores in the shortest possible amount of time, and it also helps students improve their academic English in ways that aid their assimilation into university life. At Manhattan Review, we proudly offer a TOEFL learning plan created just for you.
TOEFL Private Tutoring
Hours package 12 to 48 hours, Personalized 1-on-1 Tutoring, In Person or Live Online
TOEFL Private Course
12 hours in total, Personalized 1-on-1 Course, In Person or Live Online

Helpful! Very thorough.
- Kate (This student took our Negotiation and Decision Making Seminar.)
Oxford
Primary Course Venue:

Royal Oxford Hotel
Park End Street
Oxford OX1 1HR, England

NOTE: We do NOT typically have staff at the venue, so email us before visiting the venue.
Meet an Oxford TOEFL Tutor: Astrid S.
Astrid S. was born and raised near Bremen, Germany. She holds a bachelor's degree in education from the University of North Carolina and a master's degree in English literature from Duke University. She has five years of experience as a public elementary school teacher in North Carolina, and she has been teaching TOEFL prep for the past four years.
Astrid's TOEFL tutoring in classroom and individual settings has helped more than 200 students get accepted to prestigious universities such as Dartmouth, the University of Edinburgh, UCLA, and Princeton. In addition to her prep tutoring, she is also a part-time faculty member at an Oxford-area primary school. When she's not teaching, Astrid enjoys reading modern fiction, playing table tennis, and hiking.