Best TOEFL Test Prep Courses in Edinburgh (Scotland)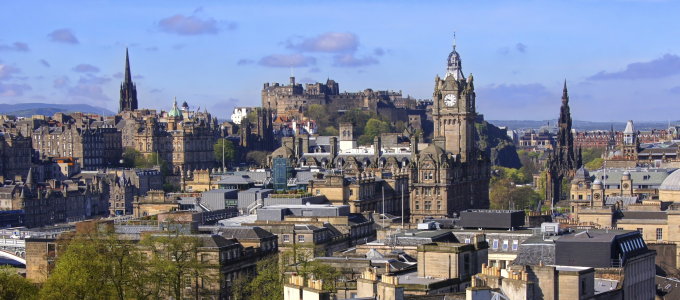 Manhattan Review is the best choice for international students in Edinburgh who need preparation for the Test of English as a Foreign Language (TOEFL). We offer a full array of TOEFL prep services, including on-site TOEFL prep classes, online TOEFL prep classes, TOEFL private tutoring, and TOEFL practice tests. Our company was founded by a non-native English speaker and immigrant to the United States who is dedicated to helping international students replicate his own academic and professional success. Manhattan Review has been teaching students how to pass the TOEFL and get accepted to universities in the United States, United Kingdom, Canada, Australia, and other countries since 1999. Our TOEFL prep classes have been developed through in-depth pedagogical research, and implemented according to the best didactic methods of our many years of experience teaching TOEFL prep to thousands of students. Manhattan Review is a trusted and respected TOEFL prep resource in Edinburgh and other major cities around the world.
Effective TOEFL preparation is based on familiarity with the specific exercises on the test, assessment of individual goals, and guided practice. TOEFL test-takers must demonstrate competence in writing, listening, speaking, and reading English, but these skills are evaluated in ways that are unique to the TOEFL. Manhattan Review's TOEFL prep courses teach our students how to do the TOEFL exercises, which makes the most of study time and streamlines the test preparation process. Minimum TOEFL standards are set by individual schools and sometimes by academic departments within those schools, which results in a great deal of variation in the definition of a passing TOEFL score. Columbia University requires a score of 100, but at Baylor University, a 76 is acceptable. Manhattan Review's TOEFL prep classes are designed to give our students as much or as little TOEFL prep as they need. TOEFL practice tests combine with instructor guidance to thoroughly evaluate student progress and readiness.
Manhattan Review's TOEFL prep classes have helped countless students achieve the necessary scores for acceptance into undergraduate and graduate programs at universities distributed throughout the national and international rankings. Our TOEFL prep services have resulted in acceptances to Princeton, Duke, Stanford, Harvard, Dartmouth, Oxford, the London School of Economics, the University of Edinburgh, and other universities around the world. Many of these students have finished their degree programs and now have successful careers in private industry. Among the Edinburgh companies that have hired our former students are Canongate Books, Pelamis Wave Power, Scottish Mortgage Investment Trust, and Edinburgh Solicitors Property Centre. We're also well represented in the Fortune 500, with past students currently working for Community Health Systems, Hartford Financial Services Group, Goodyear Tire and Rubber, and General Mills. Contact Manhattan Review today for more information on how we can add your name to our ever-growing roster of successful students.
TOEFL In-Person Classic
28 hours in total, Class Course, In-Person
Start: Dec 09, 2023

End: Jan 27, 2024

4 days left to start

Saturdays

12:00 PM - 03:30 PM

(Local Time)
Start: Dec 24, 2023

End: Feb 11, 2024

19 days left to start

Sundays

03:00 PM - 06:30 PM

(Local Time)

$1,590.00

$1,490.00

Early Booker
Start: Jan 06, 2024

End: Feb 24, 2024

32 days left to start

Saturdays

12:00 PM - 03:30 PM

(Local Time)

$1,590.00

$1,490.00

Early Booker
Start: Jan 21, 2024

End: Mar 10, 2024

47 days left to start

Sundays

03:00 PM - 06:30 PM

(Local Time)

$1,590.00

$1,490.00

Early Booker
TOEFL Private Course
12 hours in total, Personalized 1-on-1 Course, In Person or Live Online
TOEFL Practice Tests
TOEFL Practice Tests

Great Course! The structure and framework for negotiating will be helpful going forward.
- Greg (This student took our Negotiation and Decision Making Seminar.)
Edinburgh
Primary Course Venue:

Marriott Edinburgh
111 Glasgow Road
Edinburgh EH12 8NF, Scotland

NOTE: We do NOT typically have staff at the venue, so email us before visiting the venue.
Meet an Edinburgh TOEFL Tutor: Svetlana F.
Svetlana F. is of Ukrainian origin, and she showed early academic promise in the schools of her native Kiev. She scored a 110 on the TOEFL as part of her application to New York University, which was successful. She graduated from NYU with a bachelor's degree in political science, and then completed a master's degree at Penn State. She began her tutoring career for Manhattan Review in New York, teaching TOEFL, SAT, and GRE prep.
Svetlana moved to Edinburgh several years ago, and in addition to her TOEFL tutoring for Manhattan Review, she is currently a staff researcher and editorial associate for a local academic press. She has helped students from over 30 countries pass the TOEFL and get accepted to universities in which the primary language of instruction is English, including several of the most selective schools in the United States and United Kingdom. When she's not working, Svetlana enjoys playing tennis, doing crossword puzzles, and cooking Ukrainian dishes for her friends.