Best TOEFL Test Prep Courses in Cambridge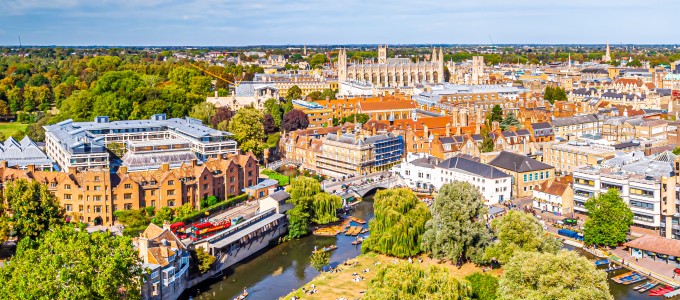 Manhattan Review offers several effective learning options for students preparing to take the Test of English as a Foreign Language (TOEFL). Our Cambridge TOEFL learning programs include on-site TOEFL prep courses, TOEFL prep classes in online interactive format, and TOEFL private tutoring. Founded in 1999, Manhattan Review is an international test prep company that provides preparation services for the TOEFL and other standardized tests in major European, North American, Asian, and African cities. We have helped students from many different backgrounds master each of the TOEFL's four content areas (listening, reading, writing, and speaking). Our clients come from many different countries, academic disciplines, and degree levels, and our TOEFL learning programs are designed to accommodate this diverse body of international students. Learn more about our TOEFL services for Cambridge students by giving us a call, sending us an email, or contacting us online. We'll be more than happy to tell you all about our course plans and schedules, and to answer any questions you many have.
TOEFL requirements at universities in the English-speaking world are as diverse as the students taking the test. Minimum total scores can range from 110 to 60 or below, and there are often specific sectional score requirements. Furthermore, scholarships and teaching assistantships usually require higher TOEFL scores than those expected of students seeking admission only. The general TOEFL standard for graduate students at the University of Toronto, for example, is a total score of 93, but this varies by department. Applicants to the Translational Research Program must score at least 100. The general standard of 93 applies to the Institute for Aerospace Studies, but the speaking and writing subscores must be at least 22. The Rotman School of Management expects both 100 and writing and speaking scores of 22. At Northwestern University's McCormick School of Engineering, an "absolute minimum" of 85 is required, and at least a 90 is desirable. All applicants for graduate teaching assistantships at Northwestern must also score at least 26 on the speaking section of the TOEFL.
Manhattan Review's TOEFL prep services have guided thousands of students to the TOEFL scores required by their bachelor's, master's, or doctoral degree programs. Our students have been accepted to the most elite universities in the English-speaking world, including Princeton, Oxford, Harvard, Cambridge, Yale, the University of Edinburgh, the University of Pennsylvania, MIT, the London School of Economics, Cornell, and King's College London. Graduates of these top schools are treated favorably in the job market. Manhattan Review's former students have been hired by Fortune 500 companies, including Berkshire Hathaway, Archer Daniels Midland, Dow Chemical, and Prudential Financial. We also have former clients employed by Cambridge's top companies, such as Adder Technology, Military Outdoor, Acorn Computers, and Open Knowledge International. With Manhattan Review's TOEFL prep courses and private tutoring in Cambridge, you can pass the TOEFL and get started on your degree program.
TOEFL In-Person Classic
28 hours in total, Class Course, In-Person
Start: Dec 10, 2023

End: Jan 28, 2024

5 days left to start

Sundays

03:00 PM - 06:30 PM

(Local Time)
Start: Dec 23, 2023

End: Feb 10, 2024

17 days left to start

Saturdays

12:00 PM - 03:30 PM

(Local Time)

$1,590.00

$1,490.00

Early Booker
Start: Jan 07, 2024

End: Feb 25, 2024

33 days left to start

Sundays

03:00 PM - 06:30 PM

(Local Time)

$1,590.00

$1,490.00

Early Booker
Start: Jan 20, 2024

End: Mar 09, 2024

45 days left to start

Saturdays

12:00 PM - 03:30 PM

(Local Time)

$1,590.00

$1,490.00

Early Booker
TOEFL Private Course
12 hours in total, Personalized 1-on-1 Course, In Person or Live Online
TOEFL Practice Tests
TOEFL Practice Tests

The lessons are well-structured. The presentation session is very helpful. The instructor is very friendly and responsive to students' questions.
- Sanido (This student took our Columbia Business School Communication and Culture boot camp.)
Cambridge
Primary Course Venue:

Doubletree by Hilton Cambridge
Granta Place Mill Lane
Cambridge CB2 1RT, England

NOTE: We do NOT typically have staff at the venue, so email us before visiting the venue.
Meet a Cambridge TOEFL Tutor: Dana V.
Dana V., originally from Mexico City, is a fluent speaker of five languages (Spanish, English, French, Italian, and German). She has been a TOEFL tutor for Manhattan Review in the United States and United Kingdom since 2012, and she is also an experienced teacher of all of the languages that she speaks. She has been living in Cambridge since 2014, and previously worked in London, New York, and Boston.
Dana holds a bachelor's degree in English literature from Brown University and a master of arts in teaching from Boston University. She has helped prepare students for graduate and undergraduate degree programs at universities in the United States (including Stanford, Dartmouth, and Duke), United Kingdom (Oxford and the University of Manchester), Canada (the University of Toronto and the University of British Columbia), and Australia (the University of Melbourne and Australian National University).